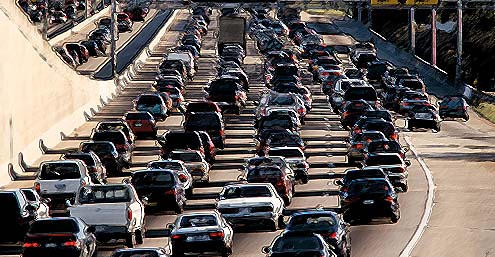 My commute to work pretty much goes as follows. I drive about 25 minutes or so to get onto and then 22 miles down Interstate 3 to the town of Paulsboro, where I peel off and take Splinterstate 803. Including the usual delays at the entrance ramp, it generally takes me about 10 minutes to drive 8 miles down 803 to get to Castlewood, which is where I frequently get my gas. The drive from Castlewood to New City is another 6 miles or so. Once in New City, I exit to 740 and within 10 minutes or 5 miles or so land in Enterprise City and at my job at Mindstorm.
If you read the above carefully (you probably just skimmed over it, that's what I would have done), you'll notice something missing. I deliberately left out how long it takes to get from Castlewood to New City. I left that information out because I have absolutely no idea how long it takes, though I'd say that it averages about 30 minutes or so. If you're keeping track, that means that it takes me about 45 minutes to cover 35 miles of the commute and approximately 30 minutes to cover the other 6.
But I didn't leave the 30 minutes out of the initial description so that I could shock you with it later. I left it out because it is always the variable in my commute. My commute may average 75 minutes but that's only if you're looking at the median and the mode. That's how long my drive usually takes in the morning. Somewhere between 70 and 80. Sometimes less, but sometimes much, much more.
I knew that having a daily commute time of over two hours would take its toll when I signed on to work at Mindstorm. I knew that it would be less time doing things that I enjoy doing and more time in the car and that there is the blood-pressure toll of long commutes in traffic (something that I never experienced in my long commute in Deseret, thankfully). I accepted that or at least thought that I did.
But what drives me crazy is the drive from Castlewood to New City and I don't know how to make it stop driving me crazy. It's not just that it takes almost as long as the rest of the commute. It's not even that I spend that time barely going or weaving through traffic with all the success of Peter Gibbons in Office Space. It's that so much of my day revolves around just how bad that six mile stretch is going to be. And perhaps moreso that I have absolutely no control over it.
My morning commute takes somewhere between an hour one day and two hours and ten minutes another. Anyone that's lived in a city isn't completely surprised by that variance, but what surprises me most is that the two hour drive was not marked by some sort of accident or closure or construction. As near as I can tell, nothing happened at all. When it's construction you usually see it an can pass it and closures are also obvious enough. When an accident is cleared you can usually see the cars and people on the side of the road or even if you can't there comes a point where everything suddenly speeds up and you say to yourself "Oh, okay, they must have cleared whatever it was that was causing the congestion. Nothing like that.
And 90% of all of the congestion takes place on that six mile stretch. If the drive takes half-an-hour more than usual, you can bank on 20 (probably 25) of those extra 30 minutes occurring between Castlewood and New City and most of the remainder being the stretch either right before it or after it. Every day, whether traffic keeps me on the road for an hour or more than two hours, traffic stops in about the same place, on Exit 6 to Castlewood. The reason that this is so frustrating and disheartening is that when you see the stall in front of you and you come to a half, you don't know when you're going to be moving again. When you're driving to Paulsboro and then to Castlewood you are sailing but you know… you know… that you're going to be sitting there in fumes and scrambling as best you can just to get one or two cars ahead. And so it's like waiting for the shoe to drop or the hammer to fall. Since there aren't many exits, if you think you might even need to go to the bathroom, fill your tires, or something like that you had better stop ahead of time just in case it's another hellacious day.
I have driven in traffic and I have driven in traffic, but I have never in my life seen anything like it. Not just because I know every morning that it's going to happen but because there's just no way to account for it. I can leave at 6:45 in the morning and it will be there and I can leave at 8:30 and it will still be there. And there's no pattern as to when it will be better and when it will be worse. I can't say "If I leave at such-and-such time, at least it won't be as bad". On the three worst days I've had I left at 7:10, 7:40, and 7:50. I thought that I could avoid it by leaving at 9 or so because one day I left then and the roads were clear, but it was a fluke because it was the Friday before Labor Day. I tried it again and it took the usual (to the extent that there is ever a "usual") buck-fifteen.
The only saving grace is that I have my audiobooks. I've made my way through the entire Hitchhiker's Guide to the Galaxy radio plays and audiobooks and am not working on Terry Pratchett. I'm considering Spanish tapes to try to make productive use out of my time. There are worse things than being trapped in a car, I've decided.
Like shared or public transportation.
About the Author
If you are interested in subscribing to new post notifications,
please enter your email address on this page.